Hey y'all! So it's only taken me until week 9 of Tara's Monday Made It to get my rear in gear but I finally did it! And of course I've only focused on aesthetics of my space and not any of the really useful stuff that I'll need in my classroom.
Maybe
I'll have some of that ready for next week.
First up, I was totally inspired when I saw Nicole's super cute burlap signs. Check out the totally adorable pencil, apple, and cupcake signs that she created and I'm sure you'll love them too!
My classroom name is still going to be Smith's Celebrities (Hollywood style) so I thought that a popcorn bucket burlap sign would be perfect on my door! I think it will be a great way to welcome my little superstars!
Then, I've seen tons of people creating adorable banner pennants. I've made a few for my kids' birthday parties as decorations and have used felt to make them. I was planning to use fabric but then when I realized that I'd probably need to back it to make it sturdier, I decided that I wasn't too sure about that idea. (I'm not lazy really...I just believe in the work smarter, not harder theory...I've got two young boys, I know y'all understand what that can be like!) So anyways, I found this felt at JoAnn's and thought it would work great. Here'sa section of one of the banners but I actually made three of them. I don't even know exactly where I'll put them in my room but I'm sure I'll find a place.
The last thing I did was a project for home. I originally spotted Amy's crazy cute polka dotted tiered planter on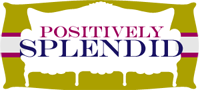 and I just knew I had to make one. I love how it turned out!!!
So, what have you made this Monday? I can't wait to blog stalk y'all!